Clear Medical Wellness is an affordable tool for personalized senior care.
Clear Home Security of Scottsdale Wellness offers a secure and cost-effective option for independent living with safety, security, and comfort.
Using discreet wireless sensors throughout the client's living area, Wellness tracks activity and wellness indicators, giving caregivers real-time insight into each client's current conditions as well as potential emergent problems.
Monitor Activities of Daily Living & Critical Events
Wellness uses real-time sensor data and intelligent algorithms to establish routine activity patterns, and identify abnormalities and emergency events. Caregivers receive insight into activities of daily living such as: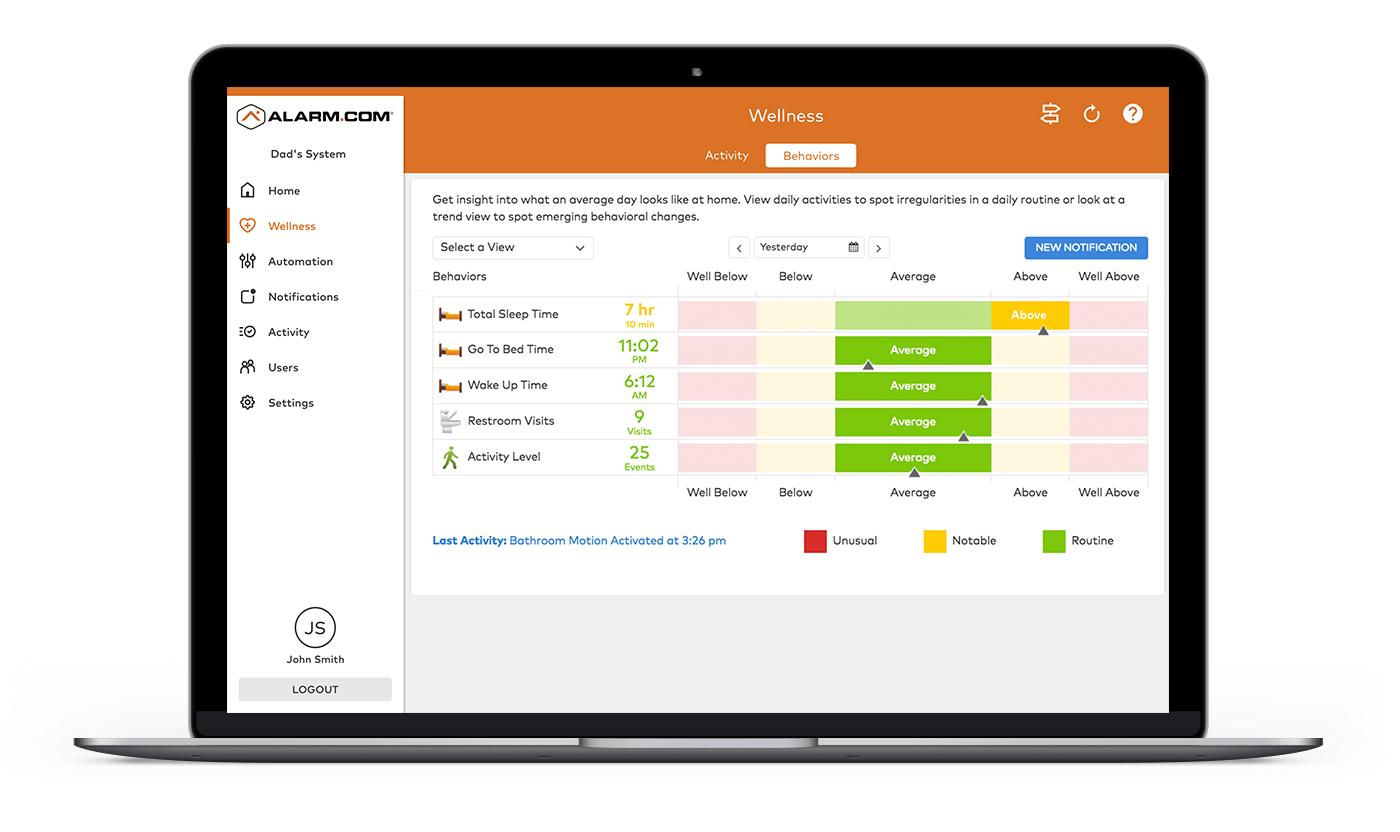 Nighttime Falls
Sleep Patterns & Sleeplessness
Sedentary Lifestyles or Wandering
Odd & Erratic Eating Habits
Infrequent or Excessive Bathroom Activities
Medication Adherence
For Homecare Companies
Wellness gives you 24×7 insights and keeps you connected to your client's conditions through automated phone calls, text messages, emails, and access to a secure web portal.
Provide Superior Care
With better awareness of your client's around the clock activity, you can immediately identify and respond to needs. Wellness even assists in detecting nighttime falls, when clients often do not wear alert buttons.
Create Informed Care Plans
Intelligent analytics give you visibility to changes in daily routines and help you stay ahead of emergent health problems. Equipped with better insight, you can partner with families to create care plans that work.
For Senior Living Providers
Differentiate your community by providing individualized care and improved outcomes – all more efficiently than you thought possible.
Efficient, Customized Care
Customized trend analysis and early detection of changes in Activities of Daily Living (ADLs), give Providers evidence-based data to support changes in levels of care, while enabling individualized support across the care continuum.
Wellness even helps achieve staffing efficiencies and maintain operational costs, thanks to improved population management.
Real-Time Alerts
Respond to immediate needs quickly
Multi-Resident View At A Glance
Monitor multiple clients on a single dashboard
Trend Reporting
Track behavioral changes that could indicate chronic conditions or decline